Pet Scams
Posted: Apr 16, 2021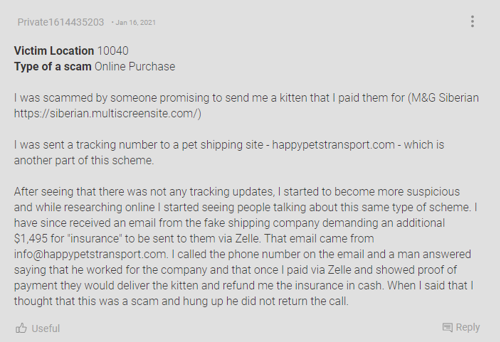 PHS has received 2 phone calls in the last month for people who have been scammed by someone posing as a Siberian cat breeder. They were both told that the breeder was in Scottsbluff, Nebraska. One avoided paying any money because they called PHS first. The second person, unfortunately, paid for the cat and will most likely not get their money back.
So if you are scammed, or think you are being scammed, what do you do? This website gives some good information:
https://www.ipata.org/pet-scams
There is also good advice on what to do to if you find a pet online to make sure that it is legitimate.
We have included a screenshot of another scam report that is unrelated to either of the ones we were alerted to in order to show the similarities. Although the name of the breeder is slightly different, they use similar names and website addresses. The one we were alerted to is H&J Siberian with a web address of handyjones.multiscreensite.com. The shipping company is also a scam happypetstransport.com. Their web page looks legitimate - it even has a page on pet scams!! There is actually a legitimate company called Happy Pets Transport - they are in Romania.
We hope that no one falls prey to these scams. Please make sure you do your due diligence before you hand your money over!