Welcome to the Panhandle Humane Society Website.
The Mission of the Panhandle Humane Society is to provide a nurturing and fear-free environment for the community and its pets in our care utilizing the Five Freedoms model.
We are not associated with the Humane Society of the United States and do not receive any funding from them. All of our donations come from our loyal local supporters.
Featured Pets Available for Adoption
Panhandle Humane Society News
View more news stories.
Lost & Found Pets
Lost Dog
Posted: Oct 28, 2023
Animal Name: Abigail
Breed / Color: Light brown boxer
Gender: Female
Area Lost: Morrill. Ne
Animal Age: 2 years on January 2024
Collar Info: Rainbow collar with red connector
Tag Info: No tag
Date Lost: 10/12/23
Other Info:She is the dog with the white fluffy toy. She is playful and like to jump on people. Once she gets over the excitement of seeing you she settles down. She had her right hip fixed by the Animal Health Center which is located by the scottsbluff sugar factory. She is very much missed by the owner. She has black around her eyes and looks like she is wearing white socks. She is still in the stage of destroying dog beds or anything that is material like. She is currently and will be on medicine due to her hip surgery. She may have a slight limp on her right rear leg. Please return to owner if located. She somehow escaped a privacy that was supposed to be solid. It was but still have no idea of how she escaped. Please help me find her. She is chipped. She is scared of lighting and thunder and will hide under a structure immediately. Thank you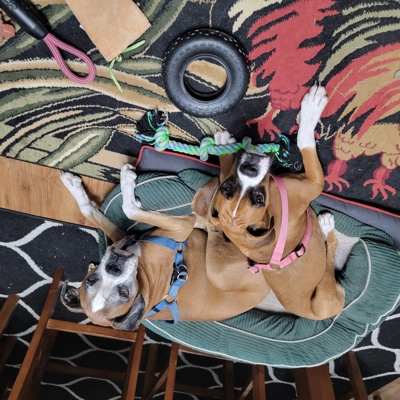 Lost Dog
Posted: Oct 29, 2023
Animal Name: Abigail
Breed / Color: Light Brown, Black around eyes and looks like wearing socks
Gender: Female
Area Lost: Morrill, NE
Animal Age: Will be 2 in January 2024
Collar Info: Collar is rainbow with a red attachment
Tag Info: No Tag
Date Lost: 10/12/23
Other Info:The picture contains 2 dogs, however the puppy is the one I am missing. Her name is Abigail or Abi She is light brown, black around her eyes and looks like she is wearing white socks. She loves to play and jump on people. She soon settles down and just loves to be petted. She get jealous when other animals are getting attention. She likes to fetch, however she eventually hangs on to the toy. She disappeared on the 12th of October out of a secure privacy fence and not sure how she got out. This happened about 1:30 in the afternoon, while I was at work. I am offering $100 for her return. She is chipped and her brother Max (12 years old) misses her along with her owner. She is difficult to catch due to boxers are one owner dogs. She will come to me if given the chance. She is still in the puppy stage and tears up dog beds or anything material like. She will find a box and do the same. She is currently on medicine for her hip and has not had it since she has been missing. She may have a limp on her right rear leg. If you have any information or know where she is, I would very much appreciate it. I have on face books everywhere and different locations in Morrill and Mitchell businesses (Flyers). She is very much missed and would like her back. If you love you fur babies as much as I do, Please help me find her and bring her home to her rightful owner.. Thank you Once again $100 reward
View all Lost and Found Animals